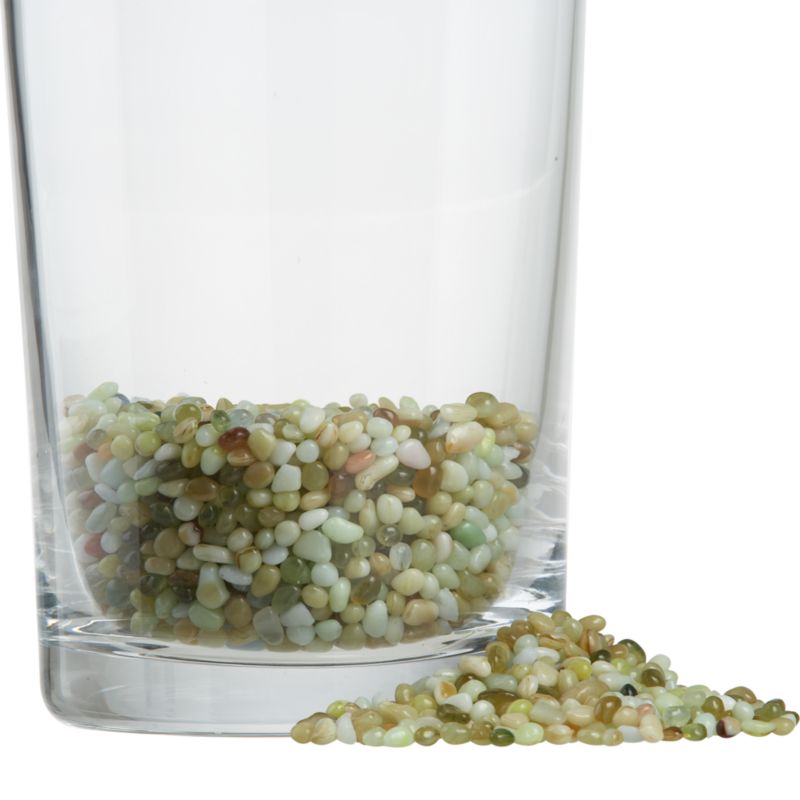 So, I see about dozens of products that baffle on Pottery Barn, but I don't want to pick solely on them, especially as I love my bathroom tiered baskets I just received, so here's one from Crate and Barrel.
These tiny glass pebbles are pretty, I admit, and I didn't, at first, realize that they're supposed to be at the bottom of a flower vase. But let's think about this: I'm going to shove some store bought flowers (that I'll buy myself, depressingly) into this pretty pebbly display, only to have one stalk going left and another one too high up, which will then frustrate me … followed by the death of the flowers and my desire to dump, rather than gently lay these buds to rest. Out pour the pebblettes.
So, suppose you use this as some sort of display. They look a little too close to jelly beans, for my taste. Someone not paying attention might delve in and try to munch on them. Or — worse yet — a clumsy house guest (or self, which is more likely) could gesture wildly, only to knock my pretty container over — ta da! Pebblette confetti. I can tell by this picture my sanity would be expended trying to pick these little things up. I'd probably give up and go with the vacuum.
I'm also not a fan of the hand wash phrase. Because how will I hand wash these and not lose them down the drain? What do y'all think?
A 2 lb. bag of Multi Green Pebblettes are $7.95 at Crate and Barrel.