I stopped in the dimly lit Restoration Hardware today, a store that is way above my pay grade. Whenever I walk inside, I have an intense "I shouldn't be here" reaction. Just looking at a tiny bottle of something called Sofa Spray with a $25 tag made me want a hasty retreat. Abort, abort! I truly believe Restoration Hardware is intended for women who really like telling you "This is from Restoration Hardware," and "Oh, don't you just love Restoration Hardware?" as they smugly watch their husbands being delivered home in limousines. (At least, that's how I imagine it.)
But let's get back to the product in question. I bring you, the double washstand sans cabinet: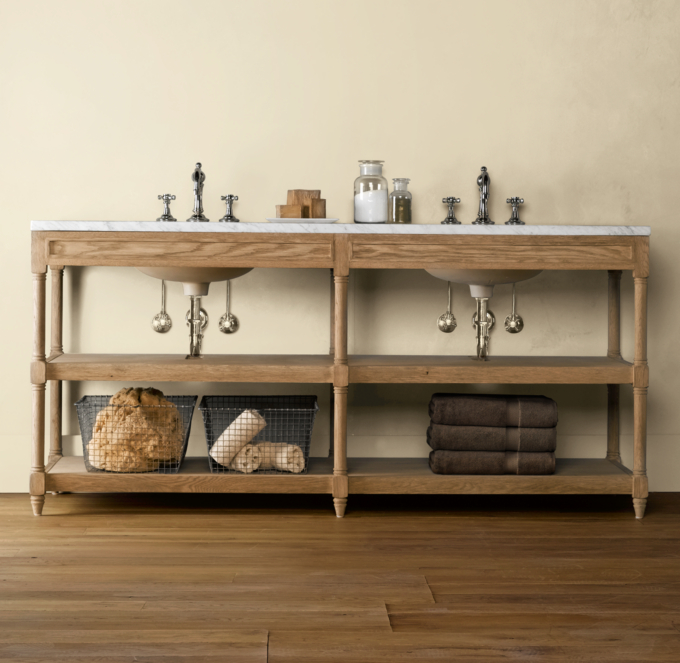 Sure, this looks classy. It probably has the flavor of several nice hotel rooms I've stayed in, with the hotel towels stacked neatly under the sink.
But hang on, I don't live in a hotel where someone comes in to fold the towels and fix my sheets. I live in a world where I own a hair dryer, and brushes, and headbands, and puppy dog shampoo, and makeup I don't use but probably should throw out, and extra toothpaste, and bags of little hotel shampoos I've swiped from the aforementioned washstands. Do I want all this business displayed in my bathroom? NO. Hence the cabinet doors concealing the one truly wrecked area of my house.
When I asked Mom about what one would do about these things, she said, "You wouldn't have a linen closet, because you could store your towels here." But does that mean I'm going to my linen closet for my hair dryer? Oh, Restoration Hardware, please.
Plus, this is $1299 – $2315. Shouldn't a consumer get some doors for that price? At least?
And by the way, what is UP with Restoration Hardware having everything washed out and neutral? I don't think color exists in this place anymore. What happened to the pink fluffy towels I liked but couldn't afford? I did like visiting them now and then.